Over the past week I have read a dozen wedding magazines: these things cost a fortune, but nothing could sate my insatiable desire for bridal information, so the money was spent. What I have been looking for is a theme: every wedding needs a theme, or at the very least a colour scheme, and until you've chosen that, you can't choose anything else! There were literally hundreds of them, but not a single idea floated my boat. Then, whilst I was sitting on the tube on Friday night, the idea came to me and i'm totally in love with it. I haven't read it in any magazines, and its perfectly us. Mike likes it too, though he says I have to sleep on it for a little while before making any decisions: I would like an Alice in Wonderland themed wedding: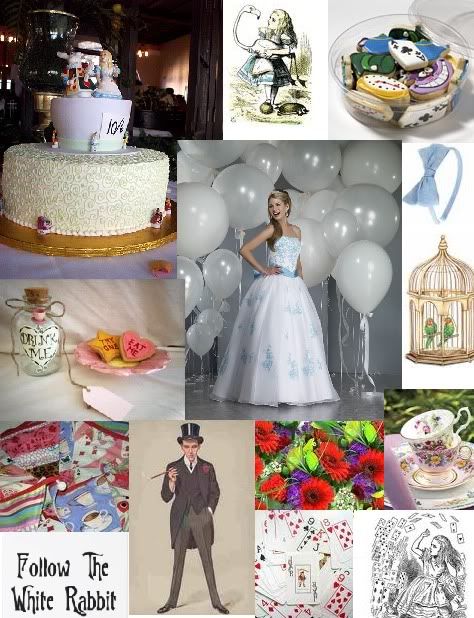 -I will do a reverse Alice, and wear a big white dress with a sky blue sash.
-The bridesmaids will wear sky blue dresses and alice bands with bows in their hair.
-The favours can be chocolates and miniture vodka bottles with "eat me" "drink me" on the labels.
-In the centre of each table after dinner stacks of cupcakes with eat me written on them could be placed.
-The flowers will be the queen of hearts red roses, mixed with more natural wild flowers.
-The tables can be names after royal card suits, and the decorations can be as quirky as i'd love them to be: rabbits, bird cages anything else that makes me think of alice!
-I will make all the bunting myself with scraps of alice themed fabrics (i'm going to try to make as much as I can myself both because its more personal, and to keep the costs down)
-We could do our champagne toast with tea cups. We could also serve the desserts in tea cups, instead of bowls.
-The stationary could say "read me" (for the invite) "follow me" (for the map) and "open me" (for the registry list)
-The boys could wear top hats and stopped pocket watches
-Everyone can wear fabulous hats!!
Its amazing how much of this I can do myself too, which I find exciting: I do calligraphy, so I will write all the eat me/drink me labels. My sister has a sideline business selling cupcakes, so I will be able to assist her in making those look really special. My mum is a genius with anything crafty, so she'll be able to help with the bunting, and i'm hoping she'll be able to do all my flowers too. Lil sis makes cards, and has already made over 300 wedding invitations, so i'm sure she'll help me get the stationary just right! I'd even like to have a go at making home made chocolates, to give the favours an even more personal touch. That way we could give them really unusual "wonderland" flavours!
What do you guys think? I think getting the theme right is the most important thing. I also think i'm prone to going over the top: in this instance I just can't decide if that's a good or a bad thing!!
Love, Tor xx