...I'm becoming even more cake obsessed than usual lately, as not only am I thinking about cakes the usual amount (which for me is alot!) i'm also thinking about cupcakes for our dessert buffet and wonderful elaborate Alice in Wonderland wedding cakes.
My nan (my mum's mum) has wonderfully offered to buy us our wedding cake, so I immediately set about looking at designs, so I could show her the kind of thing I had in mind. At first I thought I wanted something really elaborate with vibrant colours and tea cups incorporated: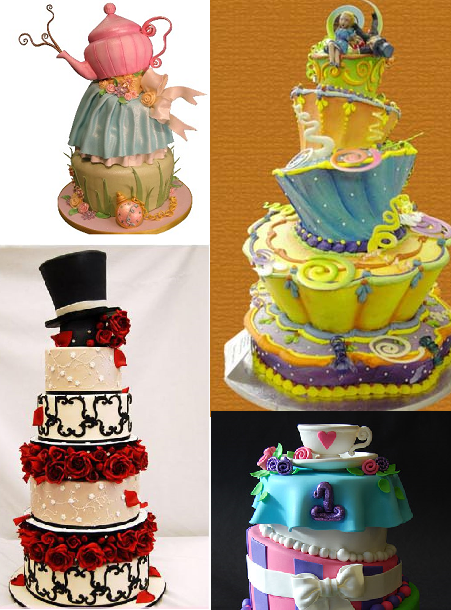 But then Mike and I sat down, and discussed our very different tastes and ultimately we chose this one, but in powder blue. Its everything I wanted: slanted tiers, alice in wonderland blue, mismatched tier decoration, a little unusual. I did have a picture of this in blue, and with a slightly different design but I can't find it anywhere! Still, this is the basic idea. Although more subtle that I originally thought I wanted, it isn't a compromise cake: I love the shape and the details, which we want to emphasise a little more. What do you think?
Speaking of compromise, Mike and I spent an hour having the Big Name conversation yesterday. I knew it would be difficult, because we have such opposing views. I love Mike with all my heart, and cannot wait to be his wife. But my name is such a massive part of my identity, and I don't feel comfortable just shaking it off. I'm proud of being a Brierley and, especially in my career, i'm proud of everything that i've achieved as a Brierley. I've done so much, so quickly, and i've done it all as me: with the Brierley tenacity that I also see in my mum and dad. I'm not ready to let that go. I can see why Mike would want me to take his name (so if we have kids we all have the same name, and because he's a traditionalist and an old romantic at heart) and the romantic part of me likes the idea of being a part of him, but the feminist in me hates the assumption that I should abandon my name and be "taken" by a man. So the compromise is that for my career: my job, my freelance work, my blogs, I will be Tor Brierley. And in my personal life I will be Tor Hampton. Anything that crosses over into both categories (My passport for example) will stay as it is! It's a funny old compromise, and I might change my mind: but for now it works for us.
Love, Tor xx