I'm not the only Brierley sister (of which there are three) to get engaged this year: youngest sister was proposed to on New Years Eve, and like me, she said yes. This means poor long suffering middle sister (and unofficial chief bridesmaid, of which there are two) has declared dramatically that she will spend the next year surrounding by tulle and fluff, and is going to get herself an army of squirrels: apparently every spinster needs a trademark!
With such a defeatist attitude it was fairly easy to drag her, kicking and screaming aside, to Debenhams, and force her to try on every sky blue dress in the store. There weren't that many of them, which only reinforces my decision that it's the right colour choice: after all, who wants to be the same as everyone else. Here are the four we tried on: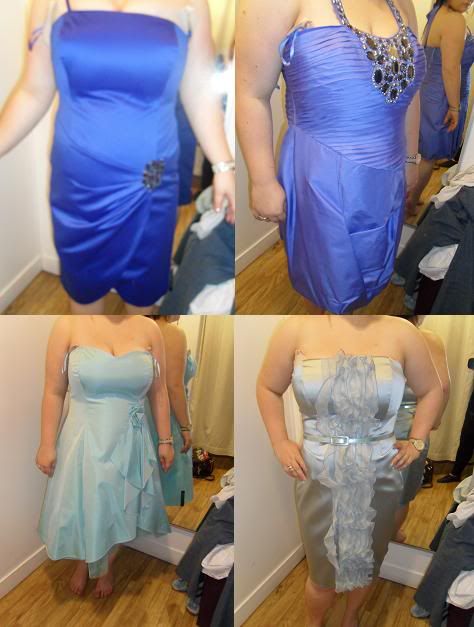 My favourite was dress 3. MS (middle sis) preferred the slinkier dress four. There are still plenty of other shops to look in, and it will ultimately be decided what suits both of the bridesmaids as LS (lil sis) has a very different body shape. Still it was a positive start, and I like the idea of getting the dresses from Debenhams (mostly because I have a 20% discount card and I can save myself a fortune!) but i'm not buying their dresses until i've chosen mine: which I cannot wait to do!
Further notes on bridesmaids: I'm only having two bridesmaids for lots of reasons. The obvious one is cost, which is a good one but that's not my main concern. My two sisters are my very best friends, and I only want to be surrounded my by closest friends on the morning of preparing for the wedding: they also know me and love me enough that when i get demanding and neurotic (which I will!) they'll let me and understand, then help me. I would have liked Becky (official best friend) as well, but Mike has a sister (that I like very much), and it seemed unfair to ask B, who is unrelated, and not ask the sister. So in the interest of harmony, and my still having what I want, we are only having two, which will be perfect for me - I know i've got the best two I could hope for, and if pushed hard enough I can make them do the work of 10 anyway! (insert evil cackle here!)
You'll find out why blue is the colour of choice for the bridesmaids in the next post by the way......
Love, Tor xx