So, if we could have a small drum roll please, I can now finally show you the save the date cards:
My stationary mission for this week is to make the place cards (minus the names of course, which I won't be able to write until later!) I really want everything to match the Alice in Wonderland theme. These are really simple, so they won't take too long to do: I just add my mad hatter stamp and then use my water colour crayons (a sentence I never thought i'd say!) to paint the hat and bow tie.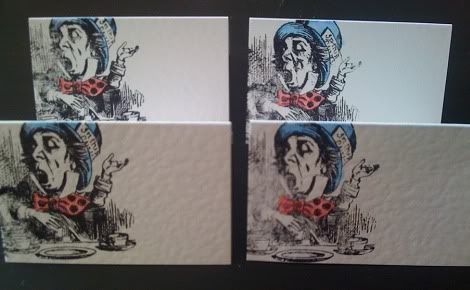 I've also made about 30% of my thank you cards: finishing those is next weeks mission. Which just leaves the biggy: designing and making the very intricate invitations complete with maps, inserts, and rsvp cards. I'm feeling pretty good about the stage we are at with the wedding planning right now: and we booked the honeymoon at the weekend too!! That will be getting its own whole post of loveliness tomorrow.
Love, Tor xx