Once the Save the Date cards were made I made the envelopes (using silver and black stamps on the front and lining them with a lovely blue paper to match the cards) I'm now writing the envelopes (i'm attempting calligraphy and it's turning out OK!) which believe it or not is the hardest job: I actually don't have anyone's addresses (i'm an email kind of gal!) so gathering all the addresses is taking longer than I thought. We're planning to send these out on Monday though - I can't wait to get them out of the house, and get peoples reactions to them (and then I can show them you guys properly too!) I've also been sat in front of the TV making Thank You cards: these are really simple cards using just two stamps and a ribbon bow, so they didn't take too long to do (unlike our complicated invitation design, which i'm dreading getting started on!!)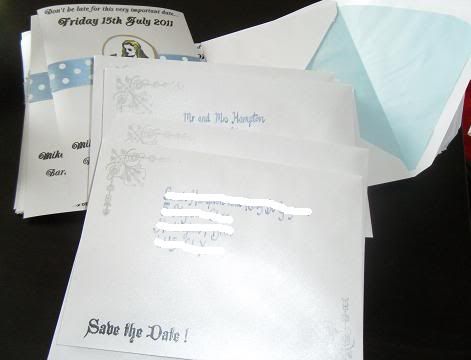 The other job i've been working on other the past couple of weeks is starting to put together the brooch bouquet. So far only three brooch "flowers" are complete, but i'm really pleased with how they're looking. I think finding the right brooches is going to be the hardest job, because I really want to use some enamel flowers, and they're difficult to find!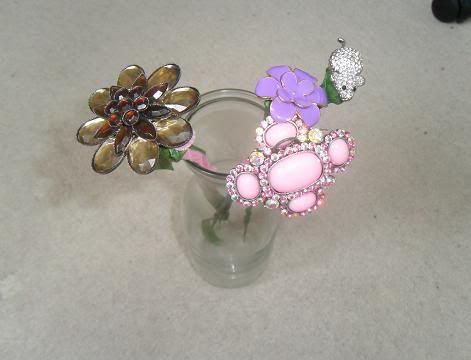 To put them together I have been threading wire around the pin to lock the 'flower' and the 'stem' together. Then for extra security I wrapped a pipe cleaner around each end of the pin. The pipecleaners were then drawn into the middle and twisted all the way down the stem, making it thicker, sturdier, and ensuring the brooch can't fall off. My mum had to show me how to do the next bit: take florist tape and wrap tightly around the stem and create a bulb around the bulk of your pin and wiring work: this makes it look more like a flower, and makes sure none of the pipecleaner will be seen at the end when you put the bouquet together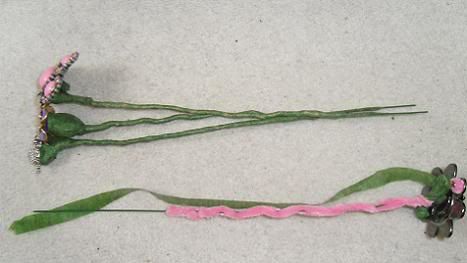 This is a massive job: so far I only have 3 completed flowers, and the final bouquet will need 75. I haven't quite worked out how these individual flowers will turn into a bouquet yet, but as I have another 72 brooches to source and wire before I have to worry about that, it's a bridge we'll cross when we come to it!
Love, Tor xx