Yesterday was a flurry of activity in the home of chief crafty sister Lucy: chief cupcake bakey sister Amie and I turned up for a day of hard work creating the save the date cards. We'd decided we wanted to get them created in one day. So we organised ourselves into a production line, and got to work! It was actually a lovely day (although both sisters complained their hands were left like misshapen claws) It was nice to sit around a table and have a good gossip, whilst having an activity to keep our hands busy!
I don't want to reveal the final card design until we send them out next month (I want it to be a suprise for some of the guests that might be reading this!) But I will share some pictures of the "making of" (usually saved for the special edition DVD!) Here we go: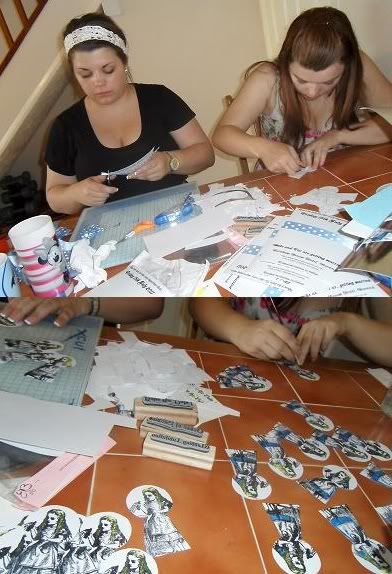 I'm really excited about how they turned out, and can't wait so send them: we're going to do that at the beginning of next month. The cards are now finished, I just have the envelopes to work on. I've stamped the fronts of them (and they're looking great!) They now just need lining with some lovely blue paper, which is very time consuming and a labour of love. Yes, apparently, love is lining envelopes. Who knew!
Love, Tor xx