So the wedding planning is plodding along nicely, but it just hasn't been feeling
theme-y
enough. Not enough Alice, not enough quirkiness, not enough of us. So imagine my delight when I found that
Event Prop Hire
has a whole section of Alice in Wonderland props.
Here is my dream wish list of all the props I would like to bring my wedding to life, but I worry it might be too much, both in terms of the athetics and the expense. I've just sent off for a quote, so we'll see! It could be that my wedding looks like this: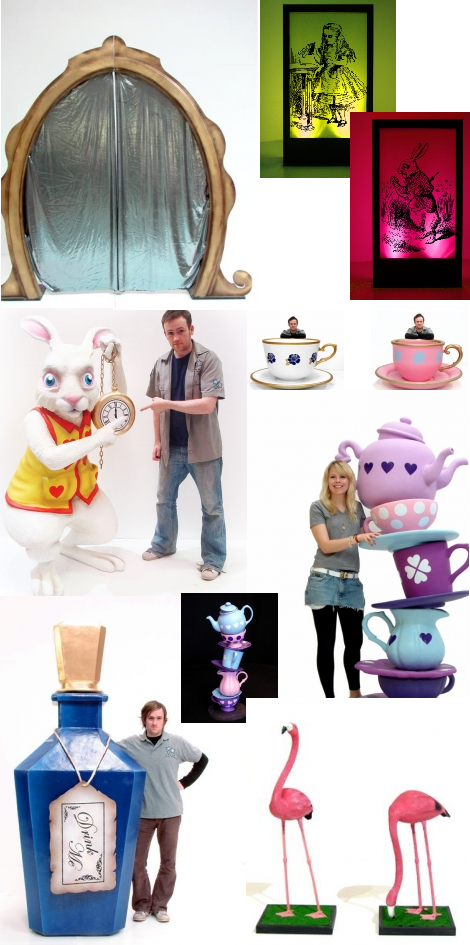 And this is what that all is:
Giant drink me bottle (pink)
China tea cup (pink)
China tea cup (white)
Giant crockery stack
Small crockery stack x 2
Flamingo on grass base x 2
Looking glass entranceway
Giant 3D white rabbit
Silhouette panel - Alice
Silhouette panel - White rabbit
I love the looking glass entryway and the idea that people would have to walk through the looking glass to enter our wedding. The silhouette panels are life sized (as tall as a man) and are the same picture style that i'm using on all of my stationary. These would come into their own during the evening part of the wedding. The drink me bottle would look amazing next to the bar, the small crockery stack on the dessert buffet table, the taller stack by the evening food. The flamingos on the lawn, and the rabbit - well I don't quite know where he would go but who doesn't want a giant white rabbit at their wedding!?
What do you guys thing? Is it too much? If you had to cut this list in half what would you opt for?
Love, Tor xxx