I know I haven't posted for ages, but that doesn't mean I haven't been getting busy with the wedding preparation! Today I finished the first batch of presents for my hens on my hen do: I decided to make them personalised Alice in Wonderland necklaces in homemade pouches. It seemed like a much nicer present to keep than a straw shaped like a willy!!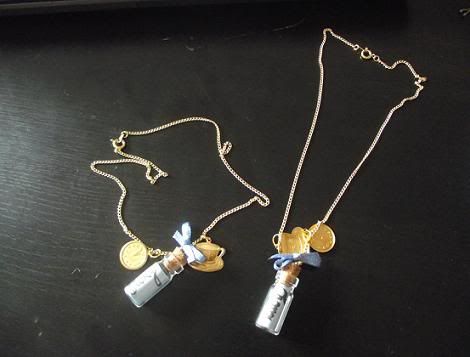 I used charms from a company called My Vintage Charms: one is shaped like a stopped clock, and one is shaped like a tea cup. The bottles (similar to the Alice "drink me" bottles) were from ebay, and each one has the hens name written on it on a scroll in the middle, and inside each scroll is a personalised note. The ribbon I used is the same ribbon I am using for the bows on my Thank You cards. And here are the little pouches: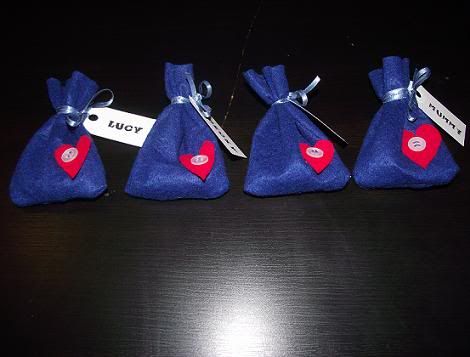 These were shockingly easy to make: I made little pouches out of blue felt, cut hearts out of red felt and secured them to the pouches with a cute shiny button! I then stamped the names onto labels and used the same blue ribbon as before to tie them to the tops of the bags - easy peasy!
My next projects for the hen do are to make candles inside teacups (i'm assured this is easier than it sounds!) and to research some personalised cotton bags to put all the trinkets into!
Love, Tor xx