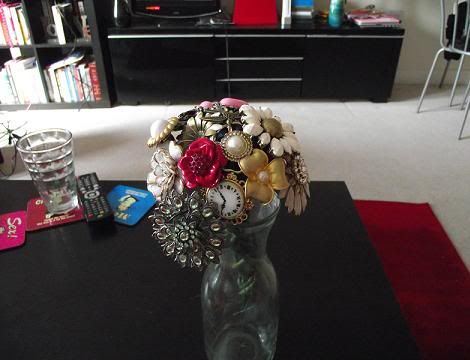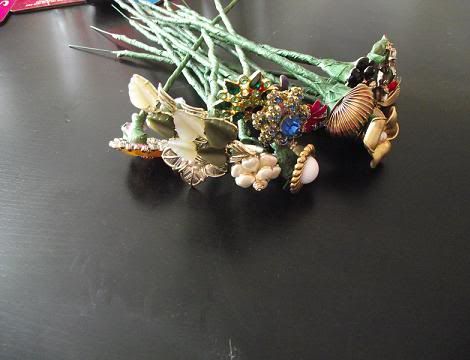 I'm really excited about the progress we've made on the brooch bouquet; so far we have around 40 brooches wired up like flowers, and I think we only need another 25 or so before I have enough to completely make the bouquet!
I've started putting it together already, just to get an idea of the shape and size. I'm crazy pleased with how it's looking, and think it's definitely comparable to the professionally made ones that i'm modelling it on. The top picture shows how it's looking so far, the bottom picture are the loose brooches I have left to add in. Although actually they aren't just brooches: i've also used scarf rings (that's what the stopped clock is - very Alice in Wonderland!) rings, clip on earrings - anything that had a solid base to hold the wire really!!
I was hoping to spend £1 or less per brooch and complete the make for £75, but haven't ended up anywhere near target: including the ones I didn't buy for myself (because everyone has been great at donating/buying brooches for me!) I think the overall cost will be somewhere between £150 - £200. As my mum pointed out though, the average fresh flower bridal bouquet costs about £150, and this way I get to keep all the brooches and have the amazing, unusual bouquet of my dreams!
I'm definitely not disappointed about going over budget, and can't wait to get it finished and show you guys!
Love, Tor xx